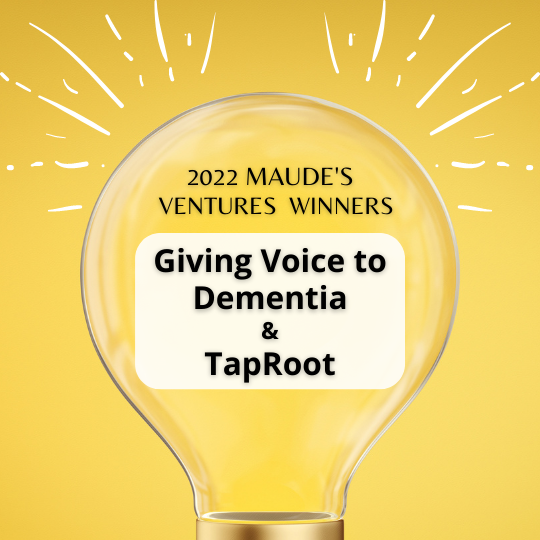 This was our 2nd annual Maude's Ventures funding period and we had an unprecedented number of applicants. The innovations and passion for helping those in the dementia care field are truly impressive.
Our Design Team had a difficult time narrowing down who should be chosen for funding this year, but after much deliberation and discussion, our 2022 Maude's Ventures winners are TapRoot Interventions & Solutions and Giving Voice to Dementia!
TapRoot is a for-profit creating an AI-based digital assistant, Ella, that helps mitigate adverse behaviors in those with Alzheimer's and dementia, promotes aging-in-place while supporting continuity in care from family to long-term care facility, and provides ongoing training for care persons.
Giving Voice to Dementia is a nonprofit based out of Canada. They will be providing a way for persons living with dementia to share their successes, struggles, and day-to-day lives with the world in an audio-visual format. These online "entries" will be utilized to educate the world, build community, bring back purpose, and act as a legacy for families and loved ones.
We are so excited about these 2 winners and hope you are too! Their willingness to work with those who have dementia and their desire to educate, build community, and break stigmas are admirable. We cannot wait to see the amazing things they will be doing over the coming months and years.
Want to improve care for your cognitively-impaired patients?