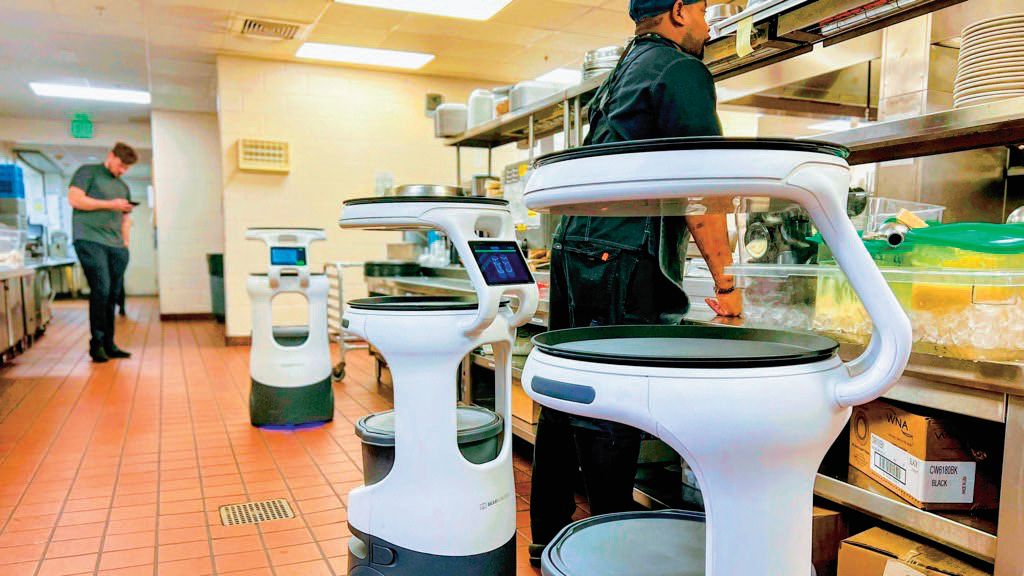 Advancements in artificial intelligence, mobile apps and even robots are becoming the new normal for improving seniors' health.
A plaintive call from an elderly family member
several years ago illustrated society's digital
divide.
"The TV commercial said I should go on a
website for more information," she complained.
"But I don't know how to get on the
internet."
That generation of individuals alienated by
technology is now dwindling in number, gradually
being replaced by aging baby boomers
who, while not growing up with computers
and smartphones, are not that intimidated by
them.
The upshot is that senior living operators can
no longer view the installation of ubiquitous
Wi-Fi access throughout a community as a luxury
add-on, something desired by only a few
tech-savvy residents.
Much like a century ago, when electric light
began to expand living spaces and phone service
started to shrink the world, today's Wi-Fi
serves as the conduit through which other technological
advancements become possible.
Artificial intelligence proliferates
New underlying digital technologies are
beginning to change the face of senior living,
creating efficiencies, cutting costs and improving
resident satisfaction and health. Most
important among them is artificial intelligence
(AI), the ability to use data to accurately predict
and evaluate behaviors, and even advise correct
courses of treatment.
Increasingly, AI is being incorporated into
sensors, robotics and cameras that can evaluate
falls, analyze eating habits and even improve
hearing.
That's why Raymond Marneris, chief financial
officer of Smith Crossing and Smith Village,
senior residences based in Orland Park and
Chicago, Illinois, decided in 2015 to make Wi-Fi
available in every nook and cranny of the two
facilities that collectively serve 600 residents.
"Ten years ago, residents came to Smith
with one or two devices, and about 55 people
needed them on a network. Today, everyone
comes to Smith with 10 to 12 digital devices,
and they want them all connected to each
other," says Marneris.
Examples include one or more smart phones,
plus a tablet, computer, printer, a smart TV,
Wi-Fi speakers, an Alexa device, a TV streaming
device and digital picture frames. And on
rare occasions, it even includes security cameras,
says Marneris.
To serve today's new aging population, "Wi-
Fi should be thought of as a utility," no different
than running water or electricity, says Majd
Alwan, senior vice president of technology and
business strategy for LeadingAge, an association
of nonprofit providers of aging services.
AI-enabled products and services can
address staffing shortages through the
increased efficiencies possible with automation.
For example, instead of manually sifting
through data, AI can automatically evaluate
restlessness such as excess nighttime activity,
consider whether an individual may be experiencing
a urinary tract infection, and suggest
appropriate treatments or a physician referral.
AI is also being used experimentally to check
changes in one's tone of voice as a way to
detect early signs of Parkinson's disease and
dementia, notes Alwan.
While that service has not yet been commercialized,
AI is helping voice control systems
such as Amazon's Alexa more accurately
understand seniors' requests, reducing the
number of times a frustrated user will hear
"hmmm, I don't understand."
As communities struggle with inflation and
reduced availability of staff due to COVID as
well as traditionally high employee turnover,
automated systems can help cut costs while
keeping resident engagement and satisfaction
high.
AI fuels advancements in fall detection
Falls by senior residents is an ever-present
danger, often precipitating other more serious
health issues. To improve rapid intervention
when a fall occurs, Kami Vision now offers
KamiCare, a camera system that utilizes AI to
more accurately detect falls and quickly alert
staff when they occur.
The system, which became commercially
available this year, improves upon fall detection
technology found in wearable devices,
says Ajay Gulati, the company's chief technology
officer. That's because KamiCare doesn't
require staff to constantly recharge batteries,
and the system avoids false positives that can
happen if a wearable device is thrown on a bed.
In addition, a dementia patient wearing a
fall detection device may not always be able to
respond to a false positive, forcing overworked
staff to attend to what might not be a fall event.
Using off-the-shelf camera systems equipped
with Kami Vision's AI technology, when a fall
is detected an alert and video clip are sent to
the cloud and verified by a human observer
before notifying one or more caregivers.
Exclusion zones can be set up in a room so
that a rapid flop onto a bed will not trigger a
response.
The system, which costs between $75 and $80
per month per resident, has already prevented
a more serious injury to a resident at Village at
Valley View, a 48-unit memory care community
in Ashland, Oregon.
"Normally we don't know how a resident
fell, so it's hard to do an intervention," says
Marilyn Lawson, the community's executive
director. But with KamiCare installed in residents'
apartments, the community was able to
quickly detect one resident's fall, notice that
he had a skin tear, and then remove the hazard
that caused the fall — an exposed electrical
cord.
"We're very satisfied with KamiCare," adds
Lawson. "In the future, we'd like to install their
cameras everywhere in our community."
For those operators who worry about privacy
issues that could occur by placing cameras in
residents' apartments, Cognitive Systems has
developed Caregiver Aware, software embedded
in Wi-Fi routers that enables motion to be
detected based on the distortion of the Wi-Fi
signal as individuals move throughout a room.
Any Wi-Fi device, whether a router or a connected
thermostat, becomes a motion detector.
Using AI, the collected data can be analyzed to
indicate when a resident goes to sleep or wakes
up, as well as changes in historical movement
patterns.
The software is sophisticated enough to filter
out movements of pets. It can also distinguish
between normal resident bed movements compared
with sleep disturbances that could indicate
a medical issue, says Taj Manku, CEO and
founder of Cognitive Systems.
The software product will launch commercially
next year and be available through internet
service providers. And later this decade, a
new Wi-Fi standard will incorporate motion
detection in all new devices. Known as Wi-Fi 7,
or 802.11bf, it's expected to supersede the current
Wi-Fi 6 standard sometime after 2024.
"Ten years ago, residents came with one or two devices, and about 55
people needed them on a network. Today, everyone comes with 10 to
12 digital devices, and they want them all connected to each other."
                                           — Raymond Marneris, chief financial officer,
                                                              Smith Crossing and Smith Village
Artificial intelligence is also being used in a
new, HIPAA-compliant cloud-based mobile
tool designed to de-escalate fraught situations
among those with dementia and mental illness.
TapRoot has collected data on the 27 most
common reactions among dementia patients,
including refusal to change clothes, medication
resistance, elopement and fall risks, among
others. Ella, from TapRoot, suggests non-drug
interventions customized for each individual
that can effectively calm an agitated resident.
Ella integrates into any electronic health
record, including PointClickCare, Caremerge,
MatrixCare, and others, giving access to a resident's
vitals and medications. The app will,
for example, suggest a caregiver offer a patient
his or her favorite snack, if that action has
been shown in the past to help de-escalate a
situation.
Or in another situation, Ella may suggest
distracting a verbally aggressive patient by
reminding that person of his or her likes or
favorite memories, if such actions have been
shown previously to be effective.
Immanuel Campus of Care in Peoria, Arizona,
has employed Ella for the past year
to further its non-pharmaceutical, personcentered,
psycho-social approach to patient
care, says Aliece Anderson, director of outpatient
services.
Employed among its 240 skilled nursing and
memory care patients, "Ella helps us manage
and de-escalate situations better and faster,"
says Anderson.
While many of Immanuel's caregivers initially
balked at using it, believing that inputting
data into Ella would increase their workload,
"as soon as they use it it's like a light
switch," says Anderson. "Ella is especially
good with new med techs and nurses unfamiliar
with the residents and their high level of
acuity. This way they can check Ella ahead of
time to understand the patients' needs."
According to research conducted by TapRoot,
Ella has a 98 percent accuracy in both predicting
that a resident will be resistant to showering
as well as suggesting an effective way to
de-escalate that reaction. By using Ella's suggested
interventions, the app has also been
shown to be able to reduce the use of calming
medications by 13 percent, says Linda Buscemi,
TapRoot co-founder and chief clinical officer.
The downside of the slew of new AI-centric
apps and digital services available to senior
living residents is that accessing them all can
be confusing and laborious. While the boomer
generation may be familiar with technology,
using one app to see the night's menu, another
to complain about a broken toilet, and a third
to make a video conference call can become
overwhelming as people age.
Juggling multiple apps
K4Connect believes that it has a better idea:
Its mobile app and Fusion OS operating systems
act as a control center for a
number of service providers,
allowing easy common access to
apps that offer menus and food
delivery, video chat, games, blood
pressure monitors, and connected
home devices, among others.
"The average assisted living resident
is 84. Are they going to use
multiple different apps while not
giving the community access to
all that siloed data?" asks Scott
Moody, K4Connect CEO.
With the K4Connect app, a resident
will be able to control his or
her apartment's lights from a single
interface; which company actually
provides that service will be
irrelevant.
And the data collected from
those various apps can be used to
analyze resident behavior and provide
an automatic check-in whenever
a device is activated through
the service.
K4Connect has partnered with
a wide range of service offerings.
It's the largest provider of Amazon
Alexa voice devices in the senior
living space, giving residents a
voice-controlled way to complete
their daily check-in with staff. And
it also aggregates services from
Coro Health, GE, Google Meet,
Grove Menus, Johnson Controls,
Microsoft Teams, YouTube and
Zoom, among others.
As data is integrated between
providers and among residences,
residents can ask Alexa to read the
daily menu.
The menu can also be automatically
available to every campus of
a multi-building operation. The
menu can also be integrated into
the dining room's point-of-sale
system, enabling residents to learn
about the nutritional value of their
meals.
If the system notices that a resident
who has high blood pressure
continues to eat salty foods,
it can suggest articles about proper
nutrition to the recipient.
Now available to 40,000 senior
living residents, the average price
per person per month is $20.
"K4Connect is working out
great," says Marneris of Smith
Crossing and Smith Village. "The
residents love it and love that they
can use any device in any place."
Cypress Cove, a 650-resident
senior living community in Fort
Myers, Florida, recently added
K4Connect, testing it with 20 residents
for the past six weeks. The
community expects to offer the
product to all its residents within
the next six to 12 months, says Joe
Velderman, vice president of innovation
for Cypress Living.
"We want to aggregate data such
as room temperature, smart light
activation and bathroom trips.
Any activity becomes an automatic
resident check-in. Now the
resident no longer needs to push
a check-in button every day,"
explains Velderman.
Robots fill the staffing gap
To keep its staff safe from infection
during the pandemic, Cypress
Cove purchased two Ohmni Telepresence
robots from OhmniLabs
to automatically do remote checkins
with its memory care and
skilled nursing residents. With
several dozen telemedicine visits
each day, "the robots have become
incredibly efficient for us," says
Velderman.
Faced with staffing shortages,
the community next purchased
several culinary-designed robots
from Bear Robotics.
Once entering a resident's
order on a point-of-sale tablet,
the robot delivers the food to the
server, eliminating the need for
the server to go to the kitchen.
With the addition of three more
units, the robots "taxicab" in the
kitchen.
After they deliver food, robots
automatically get back in line to
wait for the next orders to bring
out to the dining room.
Employing the robots allowed
Cypress Cove servers to handle at
least six tables rather than the traditional
four.
The community enjoyed a 35
percent reduction in required labor
hours, allowing it to raise servers'
salaries from $12.50 per hour to
above minimum wage, according
to Velderman.
"Now we can be competitive
with Chili's and Texas Roadhouse
in salary."
Want to improve care for your dementia residents/clients?