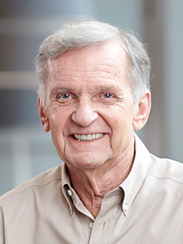 Jerre Stead, Chair Emeritus at Clarivate
Jerre has had a long and very successful career as a public company CEO. He is currently the Chair Emeritus at Clarivate after serving as Executive Chair and Chief Executive Officer for more than three years. He was the CEO of Churchill Capital Corp until its merger with Clarivate in May 2019 and had been the Chief Executive Officer and a member of the Board of Directors of Churchill Capital Corp since August 2018. Prior to that, he served as Chairman and CEO of IHS Markit, Ltd.—a publicly listed company on NASDAQ, and one of the fastest growing global companies in the information services sector.  
Additionally, he led other highly successful technology and information companies such as DTN, Honeywell-Phillips Medical Electronics, Square D, AT&T Global Business Communication. s Systems, AT&T Global Information Solutions (NCR Corporation), NCR Japan, Legent Corporation and Ingram Micro. 
Jerre is chairman of the Banner Alzheimer's Institute and he and his wife, Mary Joy helped establish the Alzheimer's Association Eastern Iowa Chapter as well as the Minnesota-North Dakota Chapter and the Desert Southwest Chapter. Jerre has also served on the Association's National Board of Directors. 
As recipients of the Alzheimer's Association 2016 Jerome H. Stone Philanthropy Award for Research, the couple make a leadership gift to ensure high-quality care and support services are provided to people facing Alzheimer's disease. The Stead family is funding a series of research studies that will lead to a replicable model of care by examining the impact of telephone care consultation on callers' self-efficacy, confidence, competence, stress and well-being. As part of the project, the Association's 24/7 Helpline enhance care consultation services and comparative-effectiveness trials on those care protocols.